(draft) TALKS & SPEAKERS September 2023 to May 2024
September 9th 2023

~ Stories of British India ships in the Gulf ~

with Kevin Patience ~
Kevin's involvement with British India's Mulbera, Dwarka and Dara are all uncovered from passenger to diver!
Kevin starts his journey with British India Steam Navigation's Mulbera in 1953 … we'll hear about the Dwarka in '83 and the wreck of the Dara in the '90s. Kevin's time in the Gulf and being part of the regions "shipping scene" allows us to enjoy his stories, images and historical research.
Kevin Patience became a commercial diver based in the Gulf and went on to establish a marine salvage company with contracts throughout the Gulf and East Africa. With an interest in military history, Kevin has been a published author for over 30 years, many on military and transport history, together with presenting talks on a variety of subjects.
~ ~ ~ ~ ~ ~ ~ ~ ~ ~ ~ ~
14th October 2023

~ More of Krispen's Travels ~

with Krispen Atkinson ~
We have followed Krispen around the world and every journey has presented an exciting array of ships for us to enjoy. Krispen is teeing up another voyage of discovery … don't miss it.
Krispen Atkinson is a maritime consultant, director of The World Ship Society and regular contributor to Ship's Monthly & Marine News with a passion for photographing and recoding modern merchant shipping. As author of an annual "Maritime Review" series, Krispen is a WSS speaker in demand.

~ ~ ~ ~ ~ ~ ~ ~ ~ ~ ~ ~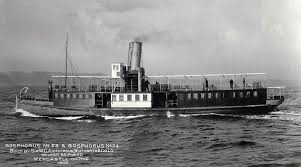 11th November 2023

~ Bosphorus ferries and passenger ships seen in Istanbul ~

with Bill Mayes ~
Bill reviews the ferries through history – many UK built – and we enjoy a bonus collection of other passenger ships
Bill will trace the history of the Bosphorus ferries linking Europe and Asia from 1851 to date. Many of the early ships were built in the UK, culminating with the series of nine built by Fairfield in 1961. Generally, the ships have had long lives, and there will be several ships photographed well into their 60s. Later vessels have largely been built locally. Bill's favourite place overseas is Istanbul, so the afternoon will conclude with a selection of other passenger ships and ferries seen in this amazing city.
Bill Mayes is well known as the Chairman of the Ocean Liner Society, a director of The World Ship Society and a regular contributor to Sea Lines and Ships Monthly. He has amassed a huge "back catalogue" of voyages worldwide and a wealth of knowledge specialising in cruise ships and ferries. A good and longstanding friend of WSS Dorset.
~ ~ ~ ~ ~ ~ ~ ~ ~ ~ ~ ~
9th December 2023

~ British Liners of the 1950s & '60s ~

with Bill Miller ~
Bill takes us back to the decades when Britain had the biggest passenger ship fleet in the world.
Bill takes us on a sentimental journey, a long voyage in fact, back 60-70 years ago, to the 1950s & '60s and when Britain had the largest passenger ship fleet on all the seven seas -- from Cunard & P&O, British India & Union-Castle and many more; and then a look at more contemporary British-based cruise ships. It all promises to be something of a grand fleet review.
Bill Miller is an international authority on ocean liners & cruise ships. This includes great ships of the past, those "floating palaces," as well as the current generation of cruise ships, the "floating resorts". An international speaker, known as "Mr. Ocean Liner," Bill has authored over 100 books on subjects from early steamers, immigrant ships and liners at war to

passenger ships of today.
~ ~ ~ ~ ~ ~ ~ ~ ~ ~ ~ ~
13th January 2024

~ The Merchant Navy in the Second World War ~

with David Parsons ~
An island nation at war with a near neighbour was critically dependant on it's merchant shipping.
The popular 1940s poster declared "The life-line is firm thanks to the Merchant Navy" … David tells stories of courage, fortitude and great loss that reveal the essential role and importance of merchant shipping during WW2.
David Parsons served on a variety of ships including general cargo, tankers, passenger vessels, Royal Fleet Auxiliaries and latterly as master on cross channel ferries. He came ashore in 1993 as Chief Executive of the Merchant Navy Welfare Board until his retirement in 2017. He is currently the National Secretary of the Merchant Navy Association in a voluntary capacity.
~ ~ ~ ~ ~ ~ ~ ~ ~ ~ ~ ~
10th February 2024

~

From a catalogue of 150+ voyages ~

with Ted Scull ~
~ DETAILS OF TALK COMING SOON ~
Ted Scull is a published author including 100 Best Cruise Vacations, Ocean Liner Odyssey, and Ocean Liner Twilight. Ted is a regular lecturer aboard Cunard ships, has travelled to all continents and has spent over five years aboard 150 ships of all types - cruise liners, expedition vessels, cargo ships, riverboats and sailing ships.
~ ~ ~ ~ ~ ~ ~ ~ ~ ~ ~ ~
9th March 2024

~ An overview of the Haven Ports ~

with Derek Sands ~
Explore the locations, facilities, shipping and cargoes passing through this network of East Anglian ports
With Derek as our guide we explore the Haven Ports of Felixstowe, Ipswich, Harwich and Mistley on the Orwell / Stour Estuary in Suffolk … along with maps of the locations, Derek's images will depict some of the facilities, the shipping using them and cargoes handled.
Derek Sands is secretary of WSS Haven Ports Branch, a prolific shipping photographer (contributing to a number of publications and websites) and a popular speaker at WSS branches and other shipping organisations.
~ ~ ~ ~ ~ ~ ~ ~ ~ ~ ~ ~
13th April 2024 ~ Birger Jarl & Mariefred ~ with David Trevor-Jones ~ …
A 1950s Sweden-Finland deep-sea ferry and a 1900s Stockholm coastal ferry – enjoy two classic ships
David sailed on the 1953 built Birger Jarl in 2009 and later stayed onboard when she became a floating hotel – the camera kept clicking telling the story of her ferry heritage & cruising. From one Stockholm steamship legend to another – David will then take us aboard the 1903 built, coal-fired, Mariefred – enjoy the excursion, tour the interiors and visit the engine room.
David Trevor-Jones

is talks organiser & director at the Ocean Liner Society – and a long-standing branch member, friend and speaker at WSS Dorset. David's shipping research and photography focusses on classic liners including the Russian "Author" class.



~ ~ ~ ~ ~ ~ ~ ~ ~ ~ ~ ~
11th May 2024

~ Seven years at Sea in the Seventies ~

with Steve Pink ~ …
A brief career as a Navigating Officer – sixteen ships – a time of seismic changes in passenger and cargo shipping
An educational cruise inspired schoolboy Steve to seek a career at sea. A cadet agreement with shipping company British & Commonwealth … School of Navigation shore-based training, a cadet training ship voyage, general cargo ships, refrigerated cargo, a bulk carrier and passenger ships all feature in Steve's seafarer story.
Steve Pink is branch secretary and events organiser at WSS Dorset and a member of the Ocean Liner Society. A Nautical Studies graduate with a background in cargo-passenger shipping, ferries and cruising - Steve also acts as editor & promoter for ~Ships~Dorset~ facebook group and website content.
~ ~ ~ ~ ~ ~ ~ ~ ~ ~ ~ ~
To join our programme of online events via Zoom please contact ~SHIPS~DORSET~ via info@shipsdorset.org
We are pleased to offer you a guest invitation to initial events without obligation
We encourage ongoing participants to become branch members
We look forward to you joining us